Plans for Any Budget
Monthly Plans offer affordable bulk email marketing for businesses that expects to send bulk emails regularly every month.
Choose an email marketing plan and sign up!
Access to the database of companies with complete and up-to-date information in .
Ideal for non-periodic email marketing campaigns.
You pay exactly how much you send without having a monthly subscription. No monthly obligations.
Credits expire at the end of the month. 1 credit = 1 email sent.
Design counts !
We offer design services for your email marketing campaigns. Depending on the requirements, we can create a graphical concept for newsletters that meet the communication needs.
Effective webmail tests
Besides the actual design, we make sure your email looks good. We provide email format testing to display properly on: Outlook, Yahoo, Hotmail, Gmail, Iphone, Android
Additional services
Strategy and email marketing analysis prices from 150 RON
Email marketing design prices from 127 RON
Realizing content email marketing prices starting from 89 RON
Preparation Newsletter
Processing email lists from the supplied format (.csv / .xlsx).
Analyzing and managing databases with recipients (removing duplicate addresses and invalid addresses).
Review the message sent to meet international shipping standards.
HTML and retouching adjustments (if the display tests in Yahoo / Gmail / Hotmail do not pass).
Editing the newsletter to display properly both for users who read in Plain Text format and for users who read in HTML.
Spamcheck Quality Score Analysis.
Expedition Newsletter
The expedition will be done through dedicated dedicated email marketing servers.
• Apply special rules to facilitate delivery of the message in the recipients' inbox.
• Scheduled shipments (day / hour).
• Delivery of different messages depending on the demographic characteristics of the subscribers.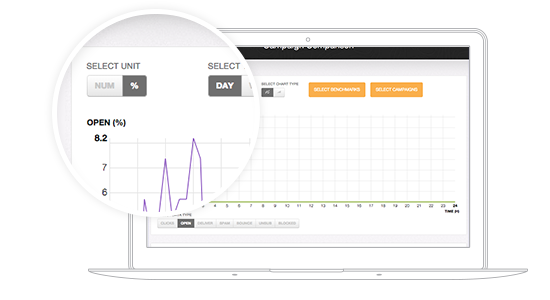 What can we offer you ?
Projected delivery in INBOX - 80%
We provide you with a personal database with contacts that can be segmented and filtered according to the criteria you specified.
We provide graphic design for a fee or use your template.
We send the email marketing campaign on multiple servers so that we can accept as many emails per second as possible.
Analytical reports are received
After the first month, the price will be reduced by 30% depending on the number of spam reports.
With databases with over 100,000 email addresses, contracts are negotiated directly.
© | Romanian Companies, Str. Tribunul Dobra, Nr. 18-20, 310101, Arad, Romania